Posts for: April, 2018
By Larry W Thompson, DDS PC
April 23, 2018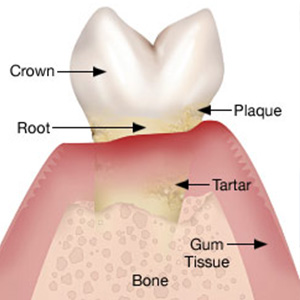 There's more to teeth than meets the eye. Hidden beneath the visible crown are the tooth's roots set within the jawbone, secured and protected by the gums from bacteria and infection. But if the gums shrink back (recede), the roots become exposed and susceptible to disease, especially at the points where multiple roots branch from each other, areas called furcations.
It all begins with periodontal (gum) disease caused by built-up bacterial plaque from insufficient brushing and flossing. The infection triggers inflammation that over time weakens gum tissues. They begin to detach from the teeth, which can eventually lead to gum recession and root exposure.
This also causes bone loss, especially at the furcations. We can detect any loss (known as a furcation invasion) and how far along it may be with x-ray imaging or by manually probing with an instrument called a periodontal probe.
There are three general classes measuring furcation invasions. In the earliest, Class I, we can feel the invasion as a slight groove; in Class II, it increases to two or more millimeters across. In Class III the bone loss extends from one side of the root all the way to the other (a "through and through").
At this stage a patient is in danger of losing the tooth, so we'll have to act promptly. This means first removing accumulated dental plaque and calculus (tartar) to stop the infection and allow the gums to heal. With severe damage, we may need to assist healing with bone and gum tissue grafting, in which we place donor grafts to serve as scaffolding for the appropriate tissue to grow upon.
You can help prevent this situation by practicing effective daily hygiene and visiting your dentist for thorough cleanings at least twice a year (or more if recommended). And at the first signs of a gum infection—swollen, reddened or bleeding gums—make an appointment as soon as possible to have it checked. The sooner we can detect and treat gum disease, the less likely a furcation invasion or worse will be in your future.
If you would like more information on gum disease diagnosis and treatment, please contact us or schedule an appointment for a consultation.
By Larry W Thompson, DDS PC
April 13, 2018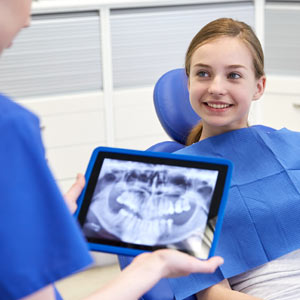 Your child's dental care wouldn't be the same without x-ray imaging. It's one of our best tools for finding and treating tooth decay.
But since x-rays emit radiation, is your child in any danger when they're exposed?
X-rays, an invisible form of electromagnetic energy, will form images on exposed film after passing through the body. Because it takes longer for x-rays to pass through dense tissue like teeth and bones, the corresponding areas appear lighter on the film than less dense tissue like the gums. We can detect decay because the diseased tooth structure is less dense and thus appears darker against healthier tooth structure.
The downside of x-rays, though, is the radiation they emit could potentially alter cell structure and increase the risk of future cancer, especially with children. That's why we follow a principle known as ALARA when using x-ray imaging. ALARA is an acronym for "as low as reasonably achievable," meaning the doses for an x-ray session will be as low as possible while still gaining the most benefit.
Advances in technology, particularly the development of digital processing, has helped reduce the amount of radiation exposure. We're also careful with what types of x-rays we use. The most common type is the bitewing, a device with the film attached to a long piece of plastic that the child holds in their mouth while biting down.
Depending on the number of our patient's teeth, we can usually get a comprehensive view with two to four bitewings.  A typical bitewing session exposes them to less radiation than what they're receiving from natural environmental background sources each day.
Keeping the exposure as low and as less frequent as possible greatly reduces health risks while still getting the full benefit of early decay detection. Still, if you have concerns about your child's x-ray exposure, we'll be happy to discuss our approach and all the precautions we take using x-ray imaging.
If you would like more information on x-ray diagnostics and your child, please contact us or schedule an appointment for a consultation. You can also learn more about this topic by reading the Dear Doctor magazine article "X-Ray Safety for Children."